Jane Eyre 1963 Steps out of the Shadows

Well, this is surprising. I was looking for some images of a theatre production when I came across this. I had finished my search and thought that I would see what might turn up. This is an image from the BBC's 1963 mini-series of Jane Eyre. This is Richard Leech as Mr Rochester and Ann Bell as Jane Eyre. All the information available on this production can be fit into this post: It had a run time of 6 episodes (at 25 minutes each?)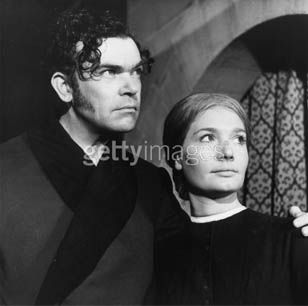 Directed byRex Tucker

Writing credits (in alphabetical order)
Charlotte Brontë

novel adaptation Constance Cox

Cast (in credits order)
Ann Bell.... Jane Eyre
Richard Leech.... Mr. Rochester
rest of cast listed alphabetically:
Elsie Arnold.... Mrs. Fairfax
Rachel Clay.... Jane Eyre (as a child)
Justine Lord.... Blanche Ingram
Nan Marriott-Watson.... Grace Poole
Jane Merrow
Elaine Pratt.... Adele
William Russell.... St. John Rivers

Produced byDouglas Allen

Original Music byTristram Cary

The specifications on the image provide hope for new material as well:

Caption:Actor Richard Leech as Mr Rochester and actress Ann Bell in the title roll [sic] of Jane Eyre being serialised by the BBC at the Television Centre, Shepherds Bush.
By/Title:Harry Todd/Stringer
Date Created:29 Mar 1963 12:00 AM
Collection: Hulton Archive
Source: Hulton Archive
Date Submitted: 27 Oct 2003 08:46 PM
Object Name:98n/52/huty/13073/58
Release Information:No release.
Barcode:JE5908

More information, at the time of the production Richard Leech was 41, and Ann Bell was 23, making their difference in age almost match that of the book- in the book Mr Rochester is 20 years older (here he is 18 years older).
Some more trivia about the cast. Richard Leech was a practicing doctor, and his children had Noel Coward and Alec Guiness for godfathers. The actor playing St.John played Ian Chesterton, the 'companion' of the First Doctor in the original Dr.Who. While Ann Bell played Doris in Fahrenheit 451.