Makeovers for Wuthering Heights and Jane Eyre.

This august Bloomsbury in the UK is coming out with new editions of Wuthering Heights and Jane Eyre marketted to young readers: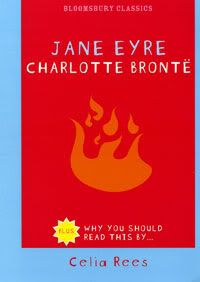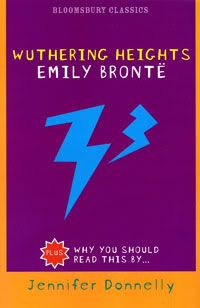 Emma Matthewson, deputy editorial director at Bloomsbury, also hopes that using specially-commissioned introductions will help to attract teenage readers. In August Bloomsbury will be launching a batch of classic titles - Jane Eyre, Wuthering Heights, Frankenstein, David Copperfield and, yes, Jane Austen's Pride and Prejudice - in editions aimed at 14- to 16-year-olds. "When you had to read a classic for school, often the only available edition had a smudgy painting on the cover. It got me thinking that it would be so fantastic to have a version of a classic that looked amazing and pickupable and had lots of extras in it. Our new classics have introductions by authors that teenagers will be familiar with - it's almost like having an author you really respect, whether it's Philip Reeve or Meg Cabot, picking up the phone and saying: 'Hey, you've got to read this book!'" The books will have gossipy, newspaper-like end sections to provide further information and historical context.

Wuthering Heights is introduced by Jennifer Donnelly, and Jane Eyre is introduced by Celia Rees. Here also are samples of their catalogue copy:

Orphaned as a young girl, Jane Eyre is brought up by her cruel and uncaring aunt. It is a gloomy start, but when Jane becomes governess to the dark and shadowy Mr Rochester, her life will never quite be the same again. So begins one of the greatest love stories of all time — a tale of grim secrets, passionate love and the power of the human spirit.

After her parents die, Cathy and Heathcliff grow up wild and free on the Yorkshire Moors and despite the continued bad feeling between Cathy's brother, Hindley, and Heathcliff they're happy - until Cathy meets Edgar Linton, the son of a wealthy neighbour. It is Catherine's eventual betrayal of Heathcliff which causes him to seek a violent revenge in this moving and intense masterpiece.

Celia Rees is an author of fiction for young adults and children. She has three books: Witch Child, Sorceress, and Pirates- all historical thrillers. Jennifer Donnelly has also written for children, and has three books to her credit: A Gathering Light, The Tea Rose, and Humble Pie.