Pulp Covers for Classic Books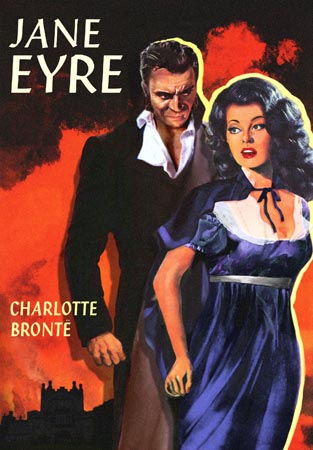 This is the second fake book cover for Jane Eyre that I've come across in my travels. The other one, you might remember, was a contest winner designed by the Association of Librarians of the Czech Republic and featured a gun weilding Jane in shiny black leather. This one is a bit more disturbing since I've seen a lot of REAL covers which look more ridiculous than this!

Coincidentally, I made one of my own last night. It is a long story, but a friend who had been gone for a while returned with pictures of Michael Jayston from a 1970s drama he was in. One of these was from the credits and featured a really silly painting of him and the female lead (well, there is some resemblance in the face but as fit as Mr. Jayston is, those are clearly not his pecs). After laughing over it for too long, I was tempted to make this. Otherwise, I should never have done something so contrary to all I believe in. But it was 3 am...

There wasn't much to do. I merely replaced the painted heads with ones from a screencap of Jane Eyre! If anyone actually wants to see the original in all of its cheesy glory, this can be arranged.



You can see the rest of the covers, including the Iliad, Moby Dick, Little Women, Alice in Wonderland, and Animal Farm here.