Review of Voice and the Victorian Storyteller by Ivan Kreilkamp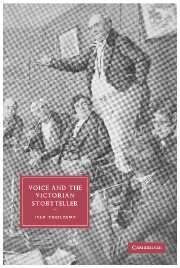 This review of Voice and the Victorian Storyteller provides an interesting critique of the book's discussion of a particular passage from Jane Eyre. The passage is quoted in a section of the book on Charlotte Bronte and the trope of 'witheld speech.'

There is a striking example in his discussion of the famous episode of extrasensory perception in Jane Eyre, in which Rochester tells Jane that he cried out to her and heard her reply, and Jane realizes that the words he "heard" were those she had actually spoken ("I am coming: wait for me!"):

The passage is quoted in full, and then follows the critique, that the author had omitted a sentence in order to shape the passage to his argument. The work also discusses Villette.

Voice and the Victorian Storyteller
264pp. Cambridge University Press. $85.0 521 85193 9

Contents:
1. 'The best man of all': mythologies of the storyteller;
2. When good speech acts go bad: the voice of industrial fiction;
3. Speech on paper: Charles Dickens, Victorian phonography, and the reform of writing;
4. 'Done to death': Dickens and the author's voice;
5. Unuttered: withheld speech in Jane Eyre and Villette;
6. 'Hell's masterpiece of print': voice, face, and print in The Ring and the Book;
7. A voice without a body: the phonographic logic of Heart of Darkness.