Actors on Playing Jane and Rochester

Another good thing about a new adaptation is that it brings out all of the previous ones! The Daily Mail posts this survey of mini-interviews with Janes and Edwards past (thanks to siansaska!) Also, the images from this post are from the internet and not my archive so this explains why some are tiny while others are huge:

"Unknown actress Ruth Wilson has shot to fame as Jane Eyre in the BBC's current adaptation of the classic novel. The series, one would assume, would guarantee her a glittering thespian future. Costume dramas are often a springboard to fame and fortune for young actors: Samantha Morton was 20 when she played Jane in 1997 and then went on to star in Minority Report with Tom Cruise and Enduring Love opposite Daniel Craig. But they can also be a one-way ticket to professional oblivion. Here, we find out what happened to previous Janes and Mr Rochesters, and why they now look at the role as a double-edged sword.



SUSANNAH YORK starred with George C. Scott in the 1970 version of the film. Susannah, 64, is starring in a touring production of The Wings Of The Dove next year. As well as acting, she also writes film scripts. She recalls: At the time I was asked to play the role of Jane, I was quite hot, so to speak. Offers were coming fast and furious, so I was delighted when I got the part. I loved the book and it was a part I had always wanted. I was bewildered and upset, however, when people said I was too pretty to play a plain governess. I have always thought of myself as a character actress and I longed to be noted for my acting ability and hated it when people paid attention to my appearance.

I've never thought of myself as pretty and truly felt I was Jane. She's not a showy character, but she is still passionate, and that's what I liked about her. People are also saying that Ruth Wilson is too pretty. But I think she has just the right qualities and seems to have the same view and feel of, and feeling for, Jane that I did.

My co-star, George, was a big, craggy, gruff creature, and he was great for a chat. But our approach to filming was totally different. I liked to rehearse, but he would do a scene in one take then go back to playing backgammon. I thought he made a pretty good Rochester, though, as he had a real presence — although he was perhaps a bit too old. I must confess that I have yet to see my perfect Mr Rochester. Even Toby Stephens in the current adaptation, while a great actor, is not the Rochester of the book as he's a bit too young.

I wouldn't say I was typecast, but people tended to see me as a more serious actor afterwards. As a result, although I refuse to accept it when people put limitations on me, I'll admit that it hasn't always been easy to get roles since.

I don't regret playing Jane, though. It was a brilliant part. Usually I curl up with embarrassment when I watch my performances, but when I watched my version of Jane Eyre, it seemed to me that I had struck the right note.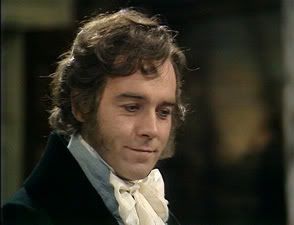 MICHAEL JAYSTON played Mr Rochester to Sorcha Cusack's Jane in the 1973 BBC miniseries of Jane Eyre. Michael, 70, currently on tour with the play Heroes, says: I landed the role of Rochester as a result of a practical joke. My then wife, Heather, sent a funny letter to the director, Joan Craft, saying, 'It's about time Michael played Rochester', and we used to think that I got the part as a result.Looking back, though, I was on a roll at the time. I'd just come from playing several highprofile roles such as Tsar Nicholas II in Nicholas And Alexandra, and A Bequest To The Nation opposite Glenda Jackson. And here was the ultimate romantic part.

Sorcha was only 23 and I was 37. People said there was an electrifying chemistry between us, which was true. I did find her attractive, but we kept things quite jokey on the set to alleviate the intensity. It's not that romantic performing love scenes on a cold morning at 8am, with a props guy holding a hot fan right next to you to stop your lips freezing. Professionally, playing Rochester didn't do me much good. I never played a romantic part on TV after that. I was baffled because when it was shown on TV, I received the biggest fan mail I've ever had.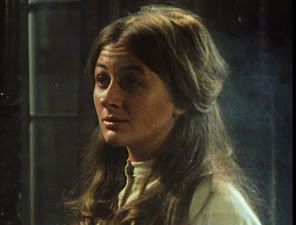 SORCHA CUSACK, 57, never made the big time after playing Jane Eyre, but has had roles in such shows as Morse, Casualty and North And South. She is currently starring in the Royal Shakespeare Company's Romeo And Juliet. She says: Jane Eyre was my first TV job and, to be honest, I felt I was rather hopeless. With no major roles under my belt, my performance was flat. I was very lucky to get the role in the first place and I think I got the part because I'm plain-looking and, because I was born and bred in Ireland, I was ten years behind other girls in terms of sophistication. Both were key ingredients to the character.

As a child, people were always saying, 'Isn't Sinead [her actress sister] gorgeous?' But my look was perfect for Jane. Rochester, Michael Jayston, said, 'After this you'll be huge,' and, while we were filming, I did go to my bank manager and say, 'I won't need the overdraft any more.' But I did need it as I didn't get any big breaks afterwards. There was plenty of work, but not a role that changed the course of my career.Lots of theatre work followed, but several years after playing Jane, I put my career on hold for a while to return to Ireland to care for my late mother, who had heart problems. It's nice looking back on the whole Jane Eyre period, and it's lovely that I still get letters saying, 'You'll always be my Jane.'




ZELAH CLARKE starred in the lavish 1983 BBC adaptation of Jane Eyre opposite Timothy Dalton, who was said to be too handsome to play the brooding Rochester. Zelah, 52, says: Jane Eyre is the ultimate poisoned chalice. Everyone remembers the Rochesters, but no one recalls the Janes. I hoped the role might be a springboard — I never thought it would force me to retire. Before Jane Eyre I had done lots of TV costume dramas, but not a lead role, so I was thrilled when I got the part. Tim Dalton wasn't a superstar then — in fact, I had more TV experience than him.

It was depressing when things suddenly stopped after Jane Eyre, especially as I had no idea why. But then I got married and my life changed. There is something undignified about old actors scraping around for work. I would never go back into the theatre; it ruins your social life and breaks up families. If I hadn't done Jane Eyre, perhaps I'd have felt that I hadn't proved myself. But I did and I have. Now, looking at the series, it seems old-fashioned, but I was pleased with my performance. Between roles I became interested in art, so perhaps I didn't have such a desire to be a famous actress after all."