Evolution of Jane Eyre: The Musical Part Five- Broadway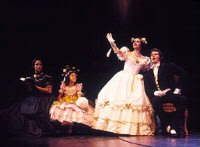 We have seen the musical through its demo stage, previews in Witchita, productions in Toronto and La Jolla, and now we're at the end of the professional run. I meant to upload some clips from footage I have but my computer will not co-coperate. So, here are some stills instead.

Previously the show was not accepted because it was too faithful to the novel. This time around, it was not accepted because it was not faithful enough. It might anger a purist, but honestly, if adapting a novel for television is difficult the stage must be far more demanding, and it is. But the show does succeed in what it wishes to do. This is not a traditional rendering of the book, it is a dreamscape. This version puts the audience into Jane's mind as she thinks back over the events as she writes her memoir. Jane is always present, but there is no fixed set whatsoever. A church is constructed by fragments- windows, light pouring into them and casting their colours on the floor, objects fly in and out of view as scenes change and as Jane comes to new memories.

Some changes do not seem to have a purpose, however. The most glaring example is the rearrangement of scenes in the second act. The Gypsy scene occurs well after Mr Mason's accident and is followed directly by the proposal. Mr Rochester barely puts down his bonnet and takes off his skirt before he asks Jane to take a stroll with him in the garden. When Jane leaves him she stumbles across the moors to- Gateshead, where St.John Rivers is tending her aunt. Which brings me to the next point: changes to character. The previous versions had some excellent character development. This St.John is a nice guy, a little silly perhaps but alright. Blanche is also just a little silly, not very bright but she means well. I can't see why this change was brought about when these characters had been so well drawn in the previous versions!

Probably the most interesting facet of this particular version, for me, is Bertha. Seeing this version on film has left me with a lot of questions. Firstly, Bertha's first appearance is in Jane's bedroom. She reaches over and sees a sketch Jane has been drawing of Mr Rochester. Throwing it from her, she darts out of the room, through a passage and into Rochester's room where she sets the blaze. Throughout the show she is wearing a long Victorian wedding dress complete with veil (I think she loses the veil at the end...). Jane's connection with Bertha is considerably played down compared with the La Jolla production, but there are still some interesting points of contact. For example, the scene after the wedding.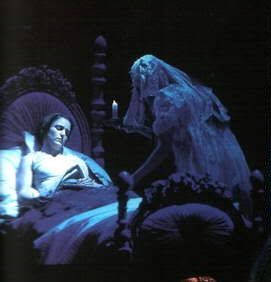 I really like the staging of this scene. Because of the dream like quality of the setting we can go directly from the church to the attic. Rochester invites everyone to see his 'lovely wife!' and instantaneously the audience is plunged into the darkness of the attic- from the point of view of those within it. In the fleeting light of the windows we can see a shape moving, and sobbing. The wedding party enter to face us and Bertha. She is dragging a book around with her, and as Rochester encourages us to sympathise with her she seems frustrated by something in the book, or perhaps she cannot read it. She rocks back and forth, holding her fists to her head as she looks over it, then takes it to Grace Poole. Soon afterwards she recognises Rochester and attacks him- but, really, she barely touches him before she is restrained. In this particular performance I thought Rochester looked cruel in his treatment of Bertha. While he narrates his past for everyone, he runs his hand along Bertha's face. She seems to lean towards it, and when he moves off she looks stricken. At some point her bonds are released. Jane notices a rag doll- like the rag doll she had in previous versions- lying on the floor. She takes it to Bertha. The two- both in their wedding clothes- curtsy to eachother before Bertha leaves with Grace.

From here you can watch: The Proposal, Sirens and Farewell Good Angel, Secret Soul being recorded in the studio.

These are just a few of the things hidden away in the Bronteana archives:

Article on the show's innovations in stage lighting, Neofitou's costuming, interviews with Anthony Crivello and James Barbour on playing Mr Rochester (part of a larger series). Footage from the La Jolla performance comes to light, 'Vision, Flame, and Flight: Adapting Jane Eyre' by John Caird, and 'Jane's Journey' a series of interviews with all of the major cast members from the Broadway run, as well as John Caird and composer Paul Gordon- in 6 parts: one, three, four, five, six. (I can't find the link to four). And, finally:the highlights CD of the Broadway cast can be purchased from Amazon.com here.

ETA: The promised stills: ('Does my forehead not please you?' And at bottom, Mr Rochester does a little dance in his gypsy skirt for Jane's amusement)